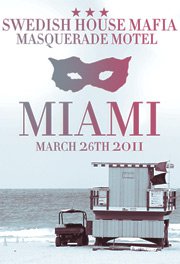 Swedish House Mafia have just announced that the upcoming Motel Masquerade Miami will have a gorgeous sea view in a custom arena on Miami's South Beach.
Masquerade Motel is shaping up to be so damn big it can't be contained by the four walls of any club in Miami (or on the planet for that matter). Swedish House Mafia is bringing their own talents and calling on their DJ friends to offer fans the biggest, most technically precise and aurally stunning live dance music event ever experienced in Miami. On March 26, the white sands and tropical waters of Miami Beach will be transformed into Masquerade Motel…for one night only.
For more information, visit the hotel online at http://www.masquerademiami.com/.
www.swedishhousemafia.com
www.myspace.com/swedishhousemafia
http://www.youtube.com/swedishhousemafiaTV
http://twitter.com/#!/swedishousemfia